FIRST WEDNESDAY WALKING TOURS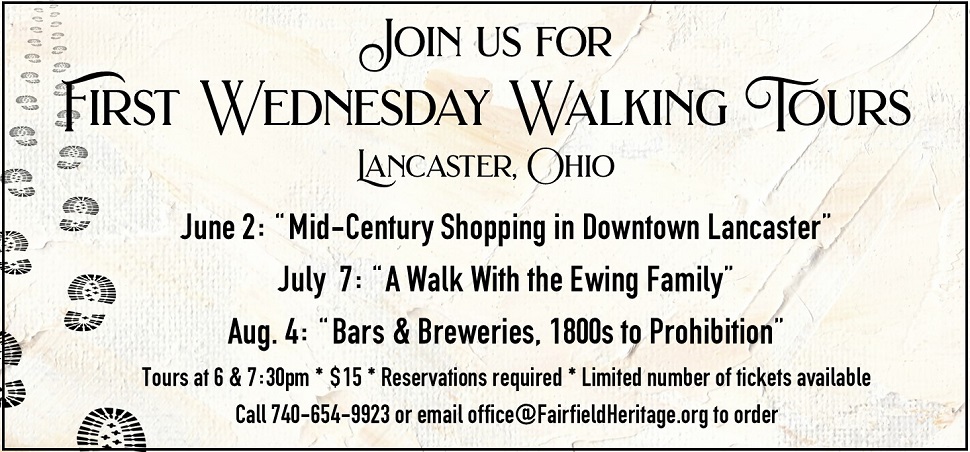 Fairfield Heritage is bringing back its popular walking tours, with three new ones set for this summer. Tours will be held the first Wednesday of June, July and August, beginning at 6pm. Each features a different topic.

June 2 will be "Mid-Century Shopping in Downtown Lancaster" as we talk about the stores in the 1950s and 60s such as Hickle's, S.S. Kresge, and many more. Let us bring back happy memories for you with this stroll down West Main Street!

Tickets for the 6pm tour have sold out, so a second tour, starting at 7:30pm has been added. Cost is $15 and is limited to about 20 people. Heritage Executive Director Tammy Drobina will be your guide.

On July 7 we will take "A Walk With the Ewing Family." Our tour covers sections of Main and High streets and will bring you stories of Sen. Thomas Ewing, the "Old Salt Boiler"; wife Marie Ewing; their sons and daughters; and their extended family, including son-in-law William Tecumseh Sherman.

Tickets are on sale for the 7:30 tour. which will be led by Mary Lawrence. (The 6pm tour has sold out). Limit of 20 people. Call 740-654-9923 or email office@FairfieldHeritage.org to order.

Aug. 4 will be "Bars and Breweries" in Downtown Lancaster from the 1800s through Prohibition.

Where were they? Join this historical "bar crawl" minus the liquor (but what you do afterwards is your own business).

Tickets for this tour go on sale July 1 for members and July 2 to the public. Cost is $15, and it is also limited to 20 people.

Each tour will last 60-90 minutes. Participants should wear comfortable shoes. The walks go on rain or shine.