The Fairfield County Heritage Association connects all people to the rich history of Fairfield County, Ohio.
ROUNDTABLE MARKS SHERMAN'S BIRTHDAY

The Sherman Civil War Roundtable is celebrating "The Life of William T. Sherman" with guest speaker Van Young on Feb. 16 at the Sherman House Museum, 137 E. Main St., Downtown Lancaster, Ohio. Enjoy cake & gifts in honor of the general's 202nd birthday. Admission is $5, and the party is open to the public. Each person who attends will receive a free pass to tour the museum when it reopens in April.
SHERMAN HOUSE & GEORGIAN MUSEUMS CLOSED

Daily touring has ended at both our museums. They will reopen in April 2022. Groups of 10 or more can tour by appointment.
Call 740-654-9923 to schedule a visit.
FAIRFIELD HERITAGE IS OPEN

Even when the museums are closed, the staff of the Fairfield County Heritage
Association is at work and ready to serve you. Available 9am-4:30pm, Monday-Friday. Call 740-654-9923 or email office@FairfieldHeritage.org. You'll find the office in the back of the Georgian Museum, 105 E. Wheeling St., Downtown Lancaster.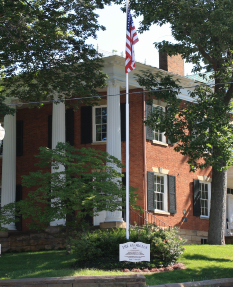 A mansion of 13 rooms built in 1832 for Samuel and Sarah Maccracken is furnished today as it might have been in the 1830's with some original pieces and numerous Fairfield County items.

VISIT US@
Georgian Museum
Built in 1811 this home was the birthplace of Civil War General William Tecumseh Sherman and his brother U.S. Senator John Sherman. A National Historic Landmark.
VISIT US @
Sherman House Museum