The Fairfield County Heritage Association connects all people to the rich history of Fairfield County, Ohio.
WE HAVE THE COOLEST HISTORY AT THE GEORGIAN MUSEUM

Seriously. We have the AC on. The Georgian Museum, built in 1832 in Downtown Lancaster, is open Tuesday-Sunday, with tours at 1, 2 & 3pm. Make your next stop the Georgian Museum.
VISIT THE BIRTHPLACE OF A LEGENDARY MAN

You'll meet the boy who grew up to be a Civil War general at the birthplace of William Tecumseh Sherman.
Tours at 12, 1, 2 & 3pm, Tuesday-Sunday.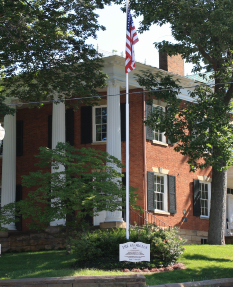 A mansion of 13 rooms built in 1832 for Samuel and Sarah Maccracken is furnished today as it might have been in the 1830's with some original pieces and numerous Fairfield County items.

VISIT US@
Georgian Museum
Built in 1811 this home was the birthplace of Civil War General William Tecumseh Sherman and his brother U.S. Senator John Sherman. A National Historic Landmark.
VISIT US @
Sherman House Museum