The Fairfield County Heritage Association connects all people to the rich history of Fairfield County, Ohio.
32-HOUR GIVE RUNS UNTIL 4PM TODAY!

Your good deed goes farther #GIVINGTUESDAY when you give through the Fairfield County Foundation. Please consider a gift to the Fairfield Heritage Association Operating Endowment.

Fairfield County Foundation's 32 Hour Give
SAVE 15% IN OUR SHOPS SMALL BUSINESS WEEK

Make the most of Small Business Week and take 15% off almost everything in our shop! The sale only excludes items made by local artisans, and we think their prices are pretty sweet as they are. The sale runs through Saturday, Dec. 4.
CANDLELIGHT CHRISTMAS TOUR RETURNS DEC. 11

'Hear the Joyful Refrains' of Christmas music performed in 6 historic churches, with guides leading you along candlelit streets in Downtown Lancaster, Ohio. The evening begins at 6pm at First United Methodist Church and ends at St. Mary of the Assumption Catholic Church. In between are programs at First Presbyterian, St. Peter's Lutheran, First English Lutheran and Emanuel Lutheran. Buy tickets early and save. Order on this website; call 740-654-9923; or stop by the Sherman House Museum or the Fairfield Heritage office at the Georgian Museum. Adults: $10; students 5-18: $4. Tickets sold at First United Methodist Church that night will be $12 for adults; $4 for students.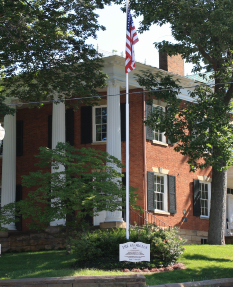 A mansion of 13 rooms built in 1832 for Samuel and Sarah Maccracken is furnished today as it might have been in the 1830's with some original pieces and numerous Fairfield County items.

VISIT US@
Georgian Museum
Built in 1811 this home was the birthplace of Civil War General William Tecumseh Sherman and his brother U.S. Senator John Sherman. A National Historic Landmark.
VISIT US @
Sherman House Museum