HERITAGE EVENTS
SPRING EXHIBIT: HOLD THE PHONE!
The Georgian Museum is hosting "Hold the Phone! Ma Bell Through the Years" in the Goslin Room. This exhibit, which runs through June 30, contains a variety of vintage phones, installation equipment, photos and more. The exhibit is free. You can also include it as part of your tour of the Georgian Museum.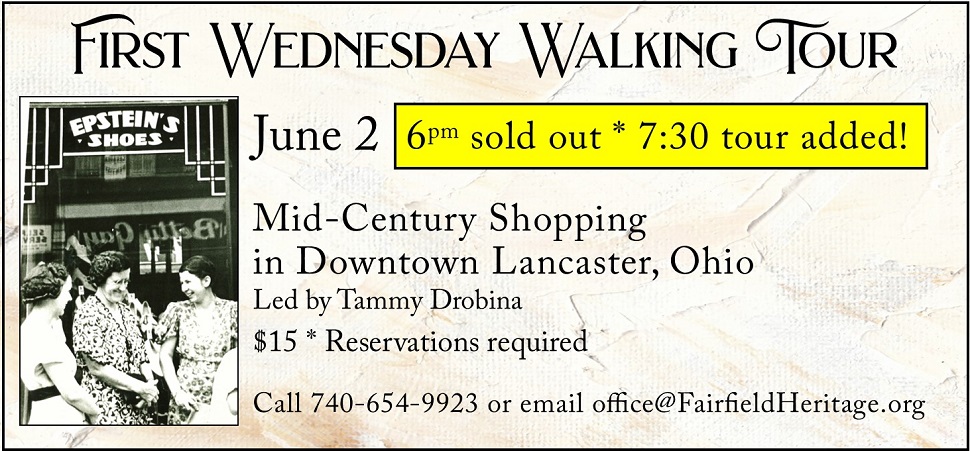 SECOND TOUR ADDED FOR MID-CENTURY SHOPPING

We quickly sold out our 6pm tour to explore Mid-Century Shopping in Downtown Lancaster, Ohio, led by Tammy Drobina. So we have added a 7:30pm tour. Tickets are $15 each. Order by calling 740-654-9923 or emailing office@FairfieldHeritage.org. Reservations required. Tour details.
Tour details
BARN TALES & PAINTING DEMONSTRATION JULY 29
Meet the man on a mission to paint pictures of old barns in all 88 counties in Ohio. Robert Kroeger will complete a barn painting — to be awarded to someone in the audience — while sharing stories of his adventures painting barns. He will also sign copies of his book, Historic Barns of Ohio, which will be on sale. Tickets are $10. 10am-1pm. Ohio Glass Museum Auditorium, 124 W. Main St. Feel free to bring a brown bag lunch.
COME ON-A MY BUS OCT. 7 FOR A TRIP TO AUGUSTA, KY

The Heritage & Hollywood Tour features a visit to the Rosemary Clooney House and a guided walking tour with Miss Lily through the most picturesque town in Kentucky. This one-day adventure is presented by the Fairfield County Heritage Association. Cost is $59, which covers Fun Bus transportation & tickets. Lunch and shopping are on your own. To buy tickets, call 740-654-9923 or order on this website. Tickets are nonrefundable unless the tour is cancelled. Tour details